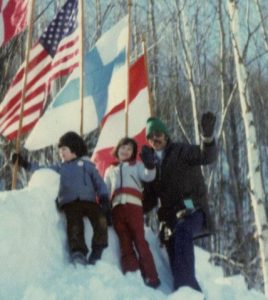 To say I'm a huge sports fan is a serious understatement. For as long as I can remember sports have been a big part of my life. My dad put me on skis right before my first birthday. I competed in gymnastics for 10 years; took up ballet (pointe no less) in high school just for fun when the physical toll of gymnastics caught up with me; played volleyball; raced in both downhill and cross country skiing; and competed in the hurdles and triple jump for high school track. If truth be told though, I really wanted to play soccer, hockey, or football. I played on my younger brother's soccer team until I aged out and co-ed teams were no longer allowed. My brief bout with football ended after I broke my finger intercepting the ball from one of the boys on the playground in 6th grade. I believe my mom said that was enough of that. And despite my dad coaching hockey, somehow I never did make it out onto the ice….
But my real dream? My real dream was to be an Olympic athlete! Yes, I know the Buzzfeed quiz said that I am best suited to have a career as a humanitarian, and I suppose at the age of 41 it's a little late to take up the Olympic challenge now, but to be an Olympic athlete would be the ultimate.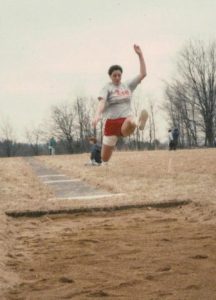 So it is with great anticipation that I eagerly await the Opening Ceremonies of the XXII Olympic Winter Games tonight in Sochi, Russia. For the next two weeks, I will revert to the sleep deprived days associated only with having a newborn. I will be glued to the television (and on occasion my computer screen) watching women and men defy all odds in pursuit of their Olympic dream.
While I love the competition – watching the "thrill of victory and the agony of defeat" as the old ABC Sports promo stated – what I love most is hearing the stories of the athletes. The level of commitment and dedication, the willingness to sacrifice everything for this one moment is unlike anything most of us will ever aspire to or experience in our lifetimes.
There are so many stories of heartbreak and triumph amongst the 230 U.S. athletes who will compete over the next two weeks. Nearly half of the athletes are women. Of course, there are those athletes who are well-known, have significant endorsements, and huge name recognition – Lindsey Vonn, even though she is not competing, and Lolo Jones come to mind – and then there are the lesser known athletes; those who may grab the spotlight for five minutes as they put everything on the line, whether they are medal contenders or not. Some will say it's just enough to make the team and compete. Others will be devastated when they miss the podium by just .03 seconds. And others will stand on the podium and watch tearfully as the American flag is raised and the Star Spangled Banner is played.
There are too many stories to share on this blog, but the stories of two women in particular really resonated with me personally:
Noelle Pikus-Pace is a 31-year-old mother of two who had retired from skeleton racing in 2010. Just two years later she decided that "she had a little bit more to give," and announced her intention to come out of retirement to qualify for the 2014 Olympics. Rather than fully sacrificing time with her family, she raised the $70,000 necessary for her husband and two children to travel with her on the World Cup circuit. As a working mom, I can only imagine the juggling act that Noelle, her husband, and their two kids have managed in dogged pursuit of her dream. It is a testament to love, support, and sheer determination.
In 2009, Lindsey Van became the first world champion in women's ski jumping. Until the 2010 Vancouver Olympics, she held the hill record for the longest jump by a man or women at the Vancouver venue, and for 10 years Lindsey fought to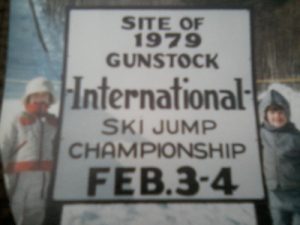 get women's ski jumping recognized by the International Olympic Committee. This year, women will compete in ski jumping for the first time in the history of the Winter Games. As a little girl, I remember attending a ski jump championship at Gunstock Mountain Resort, the New Hampshire mountain that I learned to ski on. I remember the ski jump being enormous and super scary, especially after hiking up the hill to the top, but I also remember being intrigued by what it would be like to fly.
Each of these women may have taken a different path to get to the Olympics, but each of them started out as a little girl with a dream, and when the Olympics open today I'm hoping that they both soar to new heights.
You can follow the stories of these women and many more on either the NBC Olympics or Team USA sites. And while these Olympic Games are not without controversy – the discriminating anti-gay laws, the unprecedented cost, the hotel rooms not finished, the corruption – I will be watching, and I will be cheering. I will be inspired. Who will you be watching in the days to come?
Photo 1: The author (center), her brother and their father. Photo 2: The author competes in the long jump. Photo 3: The author and her brother in New Hampshire.
Jennifer Lockwood-Shabat is vice president of Washington Area Women's Foundation.