This summer, The Women's Foundation has you covered with our first summer recommendations list!
Whether you're unwinding at the beach, taking a road trip, or simply enjoying a laid-back afternoon, immerse yourself in our staff's curated list of books, movies, TV shows, and podcasts that will be sure to enhance your summer experience.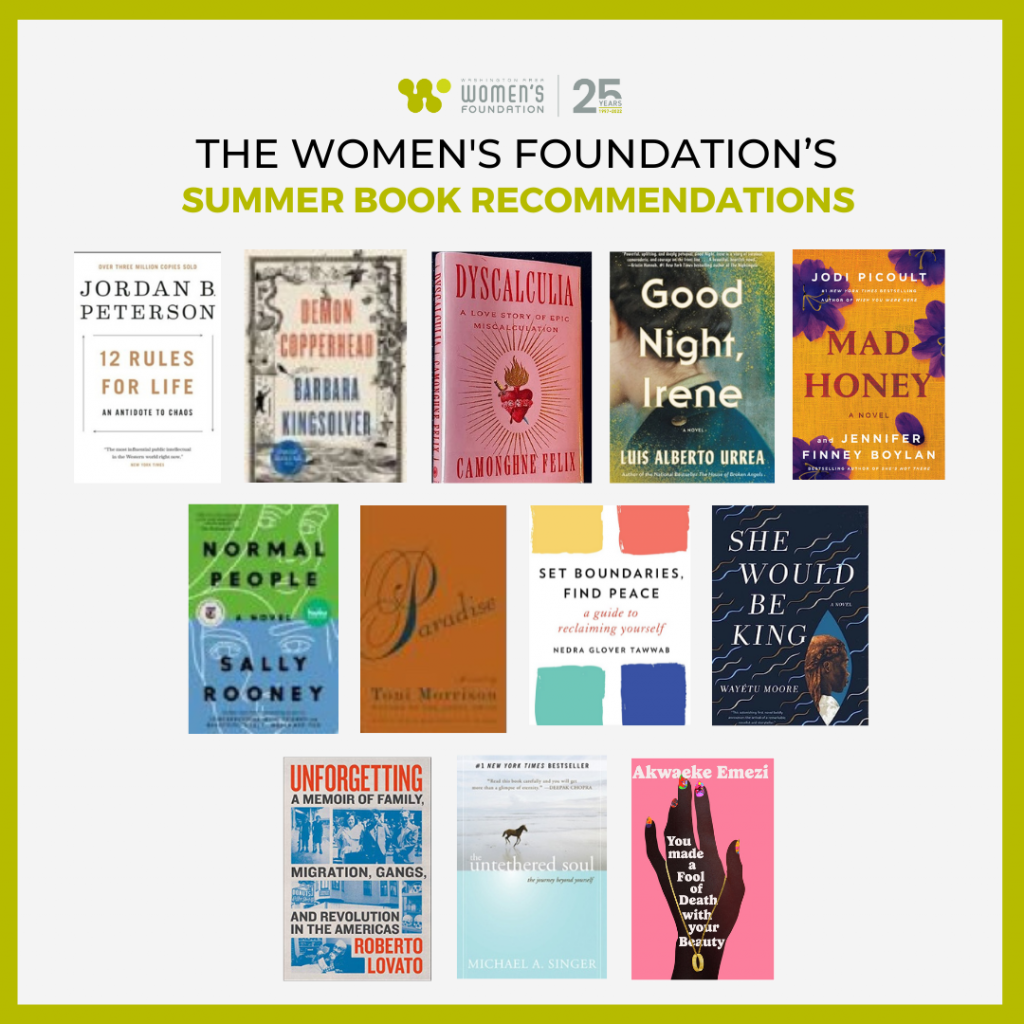 12 Rules for Life: Antidote to Chaos by Jordan B. Peterson
Self-help book, 12 Rules for Life, is written by clinical psychologist Jordan Peterson and provides life advice through essays from religion, mythology and personal anecdote perspectives.
Demon Copperhead by Barbara Kingsolver
Recipient of the 2023 Pulitzer Prize for Fiction, Demon Copperhead, is a story of a boy who is to be born to a single-teen mother and his journey through life overcoming foster care, derelict schools and much more.
Dyscalculia: A Love Story of Epic Miscalculation by Camonghne Felix
Romance novel, Dyscaluculia, covers the healing journey of the heartbreak of Camonghne Felix from her childhood trauma to her mental health journey.
Good Night Irene by Luis Alberto Urrea
Historical fiction novel, Good Night, is an inspirational read of Luis Alberto Urrea's mother and her service during World War II working at the Red Cross.
Mad Honey by Judy Picoult
If you are looking for a page-turner, you will enjoy reading Mad Honey as you explore all things of suspense, drama, love and alternating narratives.
Normal People by Sally Rooney
Fiction novel, Normal People, tells the story of a mutual fascination, friendship and love between two people who cannot seem to stay apart.
Paradise
Nobel Prize winner Toni Morrison offers a book on women empowerment through the development story of Ruby in an all-Black town in Oklahoma. Morrison explores Ruby's journey to protect her "paradise" through the challenges of love and hate.
Set Boundaries, Find Peace by Nedra Glover Tawwab
Licensed therapist, Nedra Glover Tawwab shares how healthy boundaries may be exercised in everyday life through best practices and cognitive behavioral therapy techniques.
She Would Be King by Wayétu Moore
She Would be King, is a novel that reimagines the story of the early years of Liberia history through magical realism through three characters in West Africa.
Unforgetting: A Memoir of Family, Migration, Gangs and Revolution in the Americas by Roberto Lovato
Autobiography of Robert Lovato, is a memoir of his life as an El Salvador immigrant growing up in San Francisco surrounded by gangs and his tumultuous relationship with his father. Lovato shares his views on the political crisis of the immigration system in El Salvador and in the United States.
The Untethered Soul: The Journey Beyond Yourself by Michael Alan Singer
If you are looking to be free from limitations and push beyond your boundaries, read The Untethered Soul to help you find your inner peace and freedom.
You Made a Fool of Death with Your Beauty by Akwaeke Emezi
A New York Times bestselling author, this story is of a reimagined love of a woman seeking joy as she heels from a loss.
---
65
In a catastrophic crash on an unknown planet, pilot Mills finds himself stranded on Earth 65 million years ago, forced to navigate treacherous terrain and evade perilous prehistoric creatures with only one shot at rescue alongside the sole survivor, Koa.
BlacKkKlansman
Based on true events, an African-American detective infiltrates the Ku Klux Klan, risking everything to expose their dangerous agenda.
The Covenant
Amidst the war in Afghanistan, a brave local interpreter defies all odds, risking his own life, as he traverses countless miles of treacherous terrain to carry an injured sergeant to safety.
Firefly Lane
Best friends since childhood navigate the ups and downs of life, love, and career over the course of several decades.
Insecure
Follow the hilarious and relatable misadventures of two black women as they navigate their personal and professional lives in Los Angeles.
The Last of Us
In a post-apocalyptic world overrun by infected creatures, a grizzled survivor and a young girl embark on a dangerous journey that will test their humanity.
The Little Mermaid
Dive into a whimsical underwater adventure as a young mermaid defies her father's wishes and ventures into the human world to find true love.
Missing
A gripping thriller unfolds when a mother's desperate search for her abducted child leads her down a dark and treacherous path.
Shooting Stars
This film illuminates the awe-inspiring rise of basketball legend LeBron James, chronicling his journey from a humble upbringing to becoming an iconic four-time NBA Champion, two-time Olympic gold medalist, and the NBA's all-time leading scorer.
Shiny Happy People
In a seemingly perfect suburban town, a series of mysterious events unravels the dark secrets hidden beneath the surface.
Succession
Follow the power struggles and family dynamics of a wealthy media mogul's dysfunctional family as they vie for control of his empire.
A Thousand and One
In a daring act, unapologetic and free-spirited Inez kidnaps her 6-year-old son, Terry, from foster care, embarking on a journey through a dynamically evolving New York City to reclaim their lost sense of home, identity, and stability.
---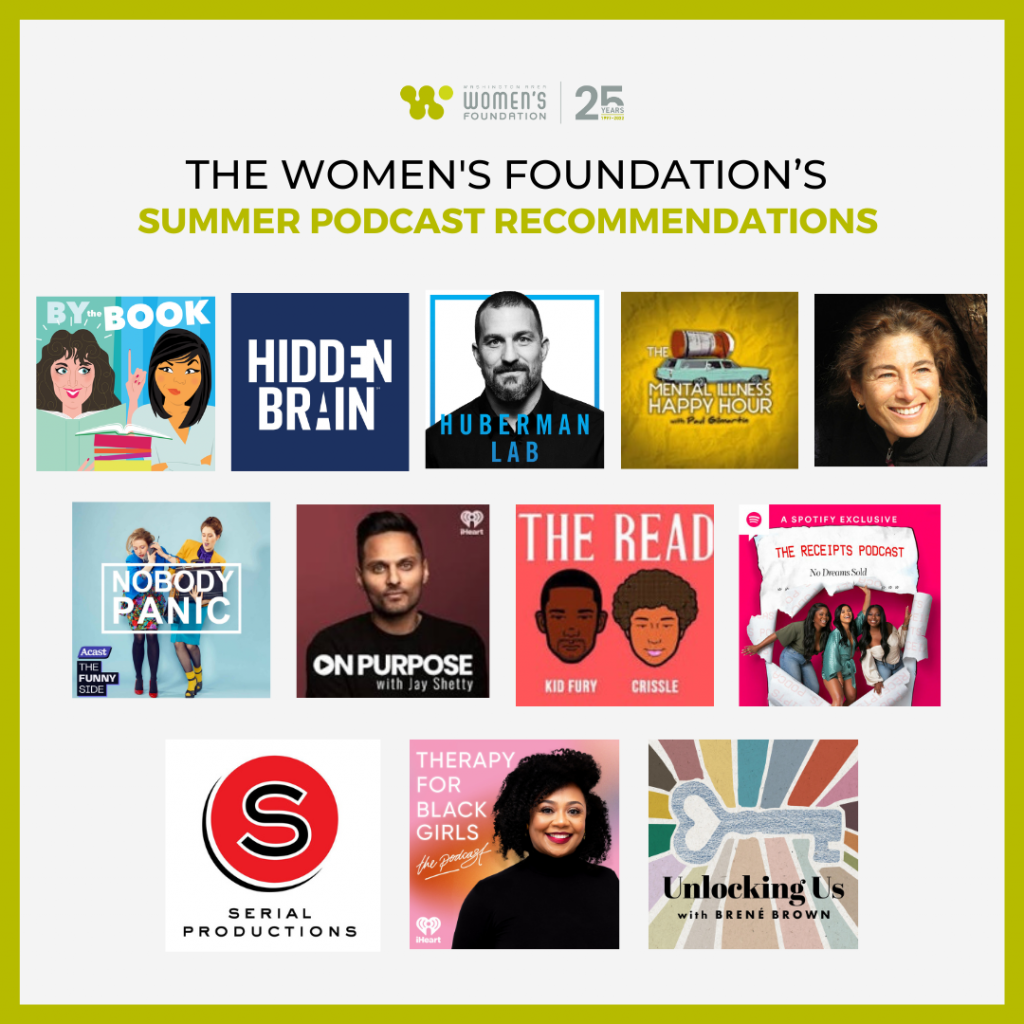 By the Book
Do you enjoy self-help books? Join hosts Jolenta, Kristen and Nora as they dive into a different self help book each episode and discover which book resonates with you.
Hidden Brain
If you are seeking a podcast about the unconscious patterns that drive human behavior, then Hidden Brain will help you unlock your biggest "whys."
Huberman Lab
Neuroscientist, Andrew Huberman, shares everything he knows on how our brain is connected to our organs and our behaviors.
Mental Illness Happy Hour
Through comedy, the Mental Illness Happy Hour podcast explores mental illness, trauma, addiction, and negative thinking.
Mindfulness Meditations
Are you looking for better ways to re-center and unwind? Try a free guided meditation with Western and Eastern physiologist Tarah Brach.
Nobody Panic
Do you find yourself in a panic and overwhelmed sometimes? Hosts Stevie and Tessa want to help you know you are not alone.
On Purpose with Jay Shetty
Storyteller and podcaster, Jay Shetty shares open and vulnerable conversations to help facilitate healthier relationships from some of the most insightful people.
The Read
Hosts Kid Fury and Crissle is a great listen if you are looking to stay up-to-date on today's pop culture and hip-hop.
The Receipts Podcast
If you are looking for a fun listen, hosts Tolly, Audrey and Miley's podcast, The Receipts, will cover everything from relationships and everyday life experiences with no filter.
Serial
Do you have a knack for crime podcasts? Serial will fulfill your needs. Serial shares all true crime stories through narration.
Therapy for Black Girls
Join licensed psychologist, Dr. Joy Bradford, as she hosts a great podcast focusing on mental health and creating a safe space for Black women.
Unlocking Us with Brené Brown
Are you looking for deep conversations that dig further into who we are and how we relate as humans? Unlocking Us with Brené Brown is a great listen for you!