Last month, the U.S. Census Bureau released new data that gives us a snapshot of what poverty was like in 2013 in the Washington region. The data shows that poverty rates have slightly increased from 2012 and that women continue to be more likely than men to experience economic insecurity. This means they can barely afford paying their basic necessities such as food, housing, health insurance, and transportation. Roughly 10 percent, or almost 210,000 women and girls, in our region lived in poverty, compared with 159,700 men and boys, or 8 percent. Things were worst for families headed by single mothers—almost a quarter were poor— and for women of color—about 14 percent of Latinas and 16 of percent of African-American women struggled with poverty compared with only 6 percent of White women.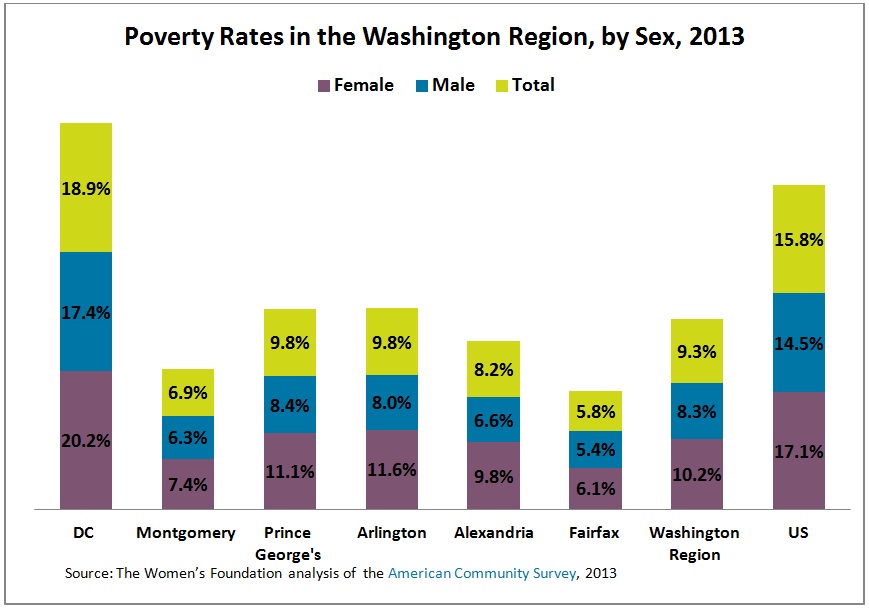 There are many reasons why families fall below the poverty threshold, including unemployment, the persistent gender wage gap, barriers to accessing education and discrimination. But one of the key factors is low-quality and low-income jobs. Many women in our region are working more than full-time at poverty-level wages with little to no benefits. That means, for example, supporting a family of four with less than $24,000  last year.  In a region like ours, where costs of housing, food and transportation are among the highest in the nation, $24,000 is not nearly enough to make a living. According to the Economic Security Index calculated by Wider Opportunities for Women, a family of four composed of two workers, an infant and a school child need an approximate annual income of $117,880 in the District of Columbia and $103,960 in Prince George's County, for example, to meet their basic needs without receiving any public or private assistance.
The newly released data highlights the urgency of the work we are doing at The Women's Foundation. In collaboration with our Grantee Partners we are helping women access basic education, enroll in workforce development programs, access financial education programs and find high-quality and affordable early care and education for their children. Such efforts help build their economic security and give them the opportunity to achieve their goals. Securing stable employment with living wages can alleviate the burden of living pay-check to pay-check and the constant worrying about how to make ends meet and care for their families, while allowing them to save and plan for a bright future.
Based on the stories we hear from our Grantee Partners and learn from our evaluation efforts we know we are impacting women's lives. Maya was enrolled in one of YearUp's workforce development programs. The odds were against her. She was living in a low-cost housing complex for mothers with many rules that made her participation in the program more challenging. She had to miss several days to take care of her sick child and money was always a concern for her, but she pushed through these obstacles and exceled at her classes and job internship. Upon graduation from the program she secured a full-time job with benefits and a salary that lifted her and her son out of poverty and changed the trajectory of their lives.
As we continue supporting the work of our Grantee Partners many more lives and families like Maya's will be impacted. In the meantime, the updated poverty numbers are an important reminder that the work we do together is crucial to our community. We still have a long way to go before we realize a future where all women are economically secure.