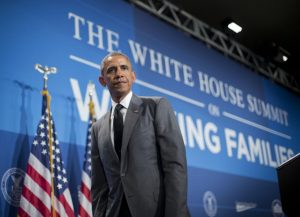 Yesterday, I had the privilege to attend the White House Summit on Working Families.  The White House hosted the Summit along with the Department of Labor and the Center for American Progress, to highlight and discuss some of the most pressing issues facing workers and families in our 21st century workplaces.
The Women's Foundation will have a series of blogs on the Summit, but for now, here are my immediate takeaways:
1. Expect to hear more about paid family leave, especially parental leave; fair pay; and early learning. These were several policy areas the President explicitly mentioned in his speech. He also mentioned many more and announced new and greater flexibility for federal workers.
2. Get engaged at the local level.  National change is slow and, as the First Lady encouraged when she spoke to the Summit, we have to be okay with incremental progress of 20%, stacked on another 20%, and so on.  It is this steady – albeit slow – progress that can help us push forward.  On the local level, mayors and governors can enact change much sooner in their cities and states.  Likewise, CEOs can enact change in their own companies, and show others how these policies support workers and improve the bottom line.
3. Women everywhere, at all levels, are making sacrifices and choices.  As some women ascend, it is our responsibility to mentor the next generation and set "the tone from the middle" or "the tone from the top" – depending on where we are in our careers – and take it upon ourselves to create workplace cultures and policies that are fair, supportive and productive.
4. These are not just women's issues.  These are issues for all working people, of all family types, and they can't be pigeon-holed.  Whether it is a working dad, who wants to care for his infant in the first days of parenthood, or a childless worker that needs to take an elderly parent to a doctor's appointment, issues like paid leave affect the ability of all working people to provide and care for their families while they earn a living and contribute to the economy.
Stay tuned for more in depth coverage of the Summit from The Women's Foundation! In the meantime, you can find more information on http://workingfamiliessummit.org or check out the conversation on Twitter using #FamiliesSucceed.
We need employers (& policies) that recognize that life is rarely simple, and the American family has changed. –@DrBiden #FamiliesSucceed

— TheWomen'sFoundation (@TheWomensFndtn) June 23, 2014
Trailblazing can hurt sometimes. But you're doing it for those who don't have a voice. –@FLOTUS #FamiliesSucceed — TheWomen'sFoundation (@TheWomensFndtn) June 23, 2014
"Women don't want to be singled out & men don't want to be left out." CEO @EYnews on creating more flexible workplaces. #FamiliesSucceed

— TheWomen'sFoundation (@TheWomensFndtn) June 23, 2014
"Work gives us a sense of place & dignity, as well as income" –@BarackObama #FamiliesSucceed pic.twitter.com/YvRV8W349f — TheWomen'sFoundation (@TheWomensFndtn) June 23, 2014