As an adult, I have little memory of my preschool years.  What I do "remember" is mostly built upon the stories and photos that my parents share with me: the artwork I made; the school play about Thanksgiving; the bright green cast I wore on my arm in my very first school photos (I have been a klutz most of my life…).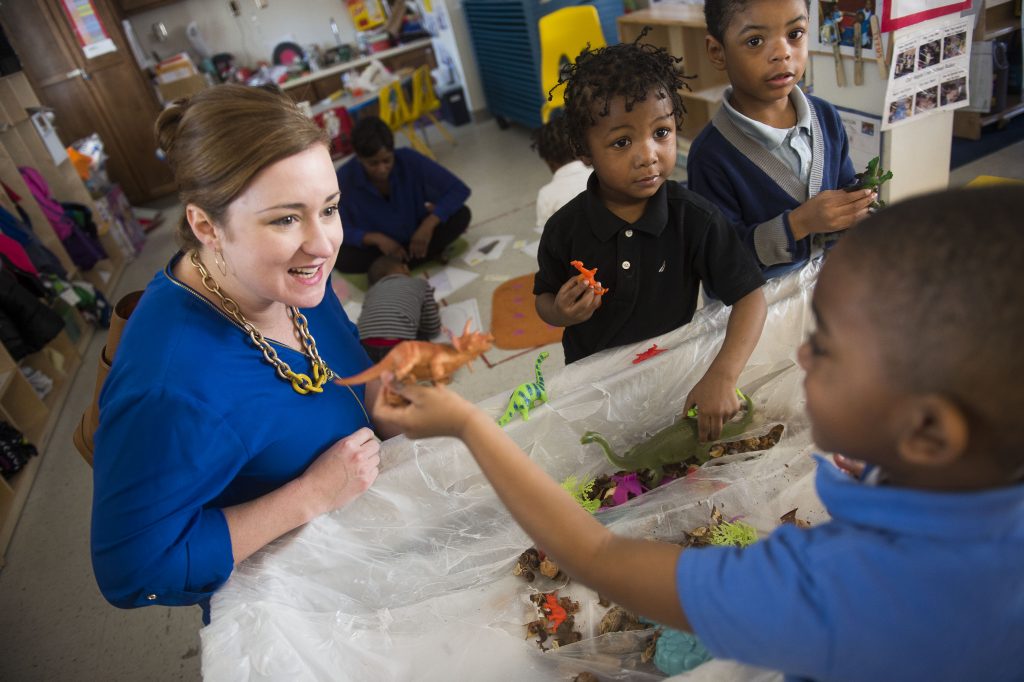 And although I can't recall the exact lessons learned during my earliest schooling, research shows these years had a tremendous impact on my life. In addition to forming the basis for literacy and numeracy, preschool is also likely where I learned how to behave in a classroom – how to raise my hand, follow instructions, and interact with my peers.  Research shows that high-quality early education builds the academic, social and emotional foundation for success in K-12, college and the workforce.
Last week, The Women's Foundation and our Early Care and Education Funders Collaborative hosted a tour and conversation with AppleTree at their early learning public charter school site in the Shipley neighborhood of Anacostia, in Southeast DC.  We visited classrooms of three and four year olds, going about their morning activities.  In one class, students were "excavating" dinosaur bones, painting and drawing dinosaurs, or working with dinosaur vocabulary words.
A recent unit on dinosaurs and paleontology has been building up to a field trip to the Museum of Natural History.  AppleTree  uses "play to learn" principles as part of their Every Child Ready curriculum that's deployed in all of its classrooms.  Every Child Ready is a comprehensive instructional model that drives how to teach, what to teach, and how to tell it's being done to increase teacher effectiveness and children's learning in early childhood classrooms.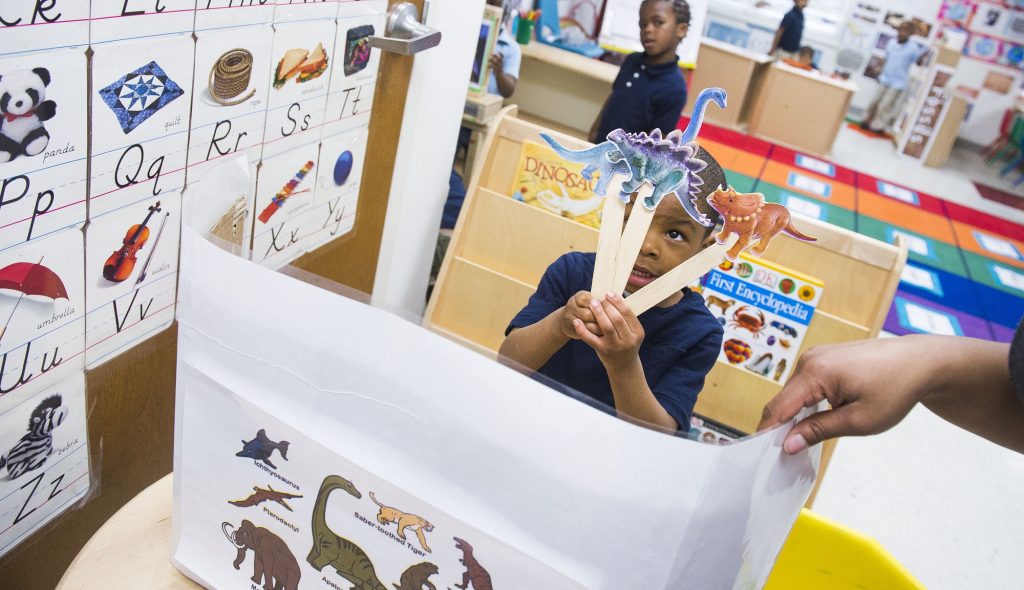 The Early Care and Education Funders Collaborative has invested for several years in AppleTree's professional development for early childhood teachers, helping to disseminate the Every Child Ready curriculum.  This year, the Collaborative is supporting the organization's local communications and advocacy efforts, through which AppleTree aims to define quality early education in terms of child outcomes that result in school readiness.
On the occasion of the Week of Young Child, our visit to AppleTree last week was a great reminder of all the ways that individually and collectively our Grantee Partners are striving to provide high-quality early education for our region's youngest residents.  Whether these children remember learning about dinosaurs – or are reminded later in life by photos and craft projects – these earliest experiences will have a lasting impact on each of their lives, and the vitality of our community as a whole.
****
Established in 2008 as a multi-year, multi-million dollar collective funding effort, the Early Care and Education Funders Collaborative brings together corporate funders and local and national foundations, with a mission to increase the quality and capacity of, and access to, early care and education in the Washington region.  Click HERE to learn more.