Katrice Brooks is a student at our Grantee Partner SOME's Center for Employment Training (CET). Below, Katrice writes about her struggles with transportation and how her long, expensive commute affects her life and prospects for the future.
People opt to use public transportation for a variety of reasons: some to save on the cost of fuel and car maintenance, others to get back the time that they were losing driving.  Despite the benefits of driving enjoyed by few, some have no choice in the matter.
As a single mother and full time student, when I think of public transportation one word comes to mind: bittersweet. I am required to get up before the sun has risen every day of the week to take my daughter to daycare and to be at school before 8:30am.  My daughter, Lauren, is 20 months old, and because it is usually  so early in the morning, I have to carry her in one arm with my school books in the other because she is usually still asleep.  Traffic jams are very common during rush hours, meaning even more time on the bus, in bumper-to-bumper traffic, and less time spent where I really want to be. I spend most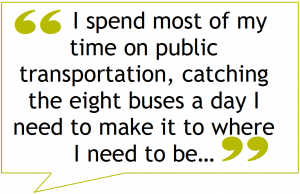 of my time on public transportation, catching the eight buses a day I need to make it to where I need to be on time.  In this modern society, this is what I have to do to access my education, jobs, events and social network.
This commute affects the opportunities I would like to take advantages of to provide a better life for my daughter and me.  I am currently without a car, and the required fare needed to ride public transportation interferes with my family's health, housing, medical bills, even food.  I am not willing to limit my daughter's education quality due to transportation restrictions or be forced to change my preferred job options because of difficulty accessing affordable transportation choices. I cannot begin to mention the drop in my social activities caused by inadequate transportation. I've become isolated and miss normal social interactions. My daughter, Lauren's, face is the reason I smile.  Every moment my daughter rises and opens her eyes, I want to be there for her.  With challenges like daycare, long daily commutes, feeding and preparing Lauren for bed, she's too tired to do anything else, so I sing her favorite songs and off she goes to sleep preparing her little body for the next day ahead. Then I begin the load of work that has to be done before returning to class the next day.
I have decided to make a change in our lives.  With all the time we spend on public transportation, I don't want to have to worry myself with a pick-pocket, or an irate and noisy commuter. Imagine how wearisome it can be when someone beside you is drunk, and you have to keep an eye on them the entire commute, all the while praying that they won't harm your baby girl.   The SOME Center for Employment Training has been extremely helpful by providing me transportation assistance in the form of a smart trip card, but with the kind of commute I have on a daily basis it is nowhere near the amount I need to make ends meet.   Public transportation is an importation part of my life, but I am writing this essay to speak about the problems with public transportation, not only for myself, but also for other single mothers and passengers.