On October 15, The Women's Foundation President and CEO, Jennifer Lockwood- Shabat, gave the following remarks at the 2015 Leadership Luncheon.
Good afternoon. Wow – what an amazing crowd! I'm Jennifer Lockwood-Shabat, and I'm thrilled to welcome you to today's luncheon.
At each of your plates sits a small blue or orange envelope marked Wait to Open. The suspense has been tough, I know! But inside that envelope sits your fate for the next few minutes: either that of a woman thriving, or that of a woman struggling.
So now I'd like you to open your envelopes.
If you have a blue envelope, you are living the life of a woman who is thriving. You likely graduated from high school, college and maybe even grad school. You are employed and earn a comfortable salary. You can afford high-quality child care, a home of your own, and you set aside money each month for savings. If you opened your envelope to learn that you are thriving, I'd like you to stay seated.
If you have an orange envelope, then you are living the life of a woman struggling to get by. It's likely that you graduated from high school, but college wasn't an option. You are employed at a local chain restaurant, making $21,000 per year – minimum wage – barely enough to cover your bills, let alone child care for your toddler. Each week, you cobble together coverage through friends, family, and neighbors, wondering if your daughter is learning what she needs to be prepared for kindergarten. Each month, you make tough choices about which bills you will pay – whether it's your daughter's asthma medication or the heating bill – because you can't cover both of them in full.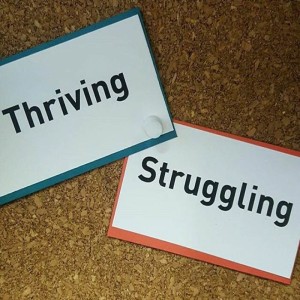 If you've found yourself with an orange envelope, please stand.
Take note. Look around. 1 of every 4 individuals in this room is now standing.
1 in 4.
These are people you know. They are your neighbors, colleagues, and friends.
The women and men standing are representative of the 476,000 women and girls in this region who are struggling to get by.
But why? It doesn't have to be this way.
●    What if – right now – we doubled down on our investments to build economic security in this region?
●    What if for every door that felt closed off to a woman, we helped open 2 more doors of opportunity?
●    What if, instead of making assumptions, we took the time to listen – really listen – to what women need,
so we can tailor solutions that will truly help them get ahead?
If we were to do this, then you could all take a seat. And as you take your seat at the table, know that, in doing so, you're creating new seats at the table. This is what a model community looks like—a place where we all have comfortable seats at the table, and ample opportunities to thrive.
It's not so far out of reach.
Last year, I stood on this stage and shared my own personal journey. Having come from a place of struggle, I am now thriving. And so this work is very personal for me. My mom and daughters are here with me again today, and although I argued a little bit with my oldest daughter Katia about whether she should really miss a day of school, she said to me, "Mom, I want to see what you do. It's really important to me." And there you have it. That's the difference. Because my trajectory changed, her trajectory has changed, and she sees other possibilities.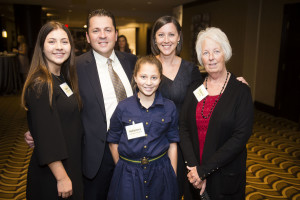 But that's not the case for far too many women and girls in our community. When mired in the challenges of poverty, especially when it's the only life you've ever know, it's hard to lift your head up and see a brighter future for yourself and your family.
When we talk about female poverty in our region, 1 in 4, we must explicitly talk about the disproportionate impact this has on women and girls of color.
16 percent of Black women and 14 percent of Latinas live in poverty compared with 6 percent of white women.
And when we look at families led by single women, the disparities for women of color are truly staggering.
What's happening with women and girls of color in our community is so deeply connected and intertwined with what is happening to men and boys of color. My Brother's Keeper has ignited an unprecedented investment in boys and young men of color, an investment and conversation that is long overdue. I applaud our trifecta of leadership—the Mayor, the Chief of Police, and the Chancellor—for these efforts.
I think we can all agree that this isn't about one gender or another. This isn't about pitting girls against boys. This is about investing in the future of our community, investing in our children.
What we need now, more than ever is bold action.
So today, I am challenging our community to join The Women's Foundation and boldly invest a collective $100 million over the next five years in our region's women and families, many of whom are women of color.
Join The Women's Foundation in committing to moving the 476,000 women and girls currently facing economic hardship to a place of consistent economic stability. Our region's families deserve nothing less.
To aid in these efforts, in the coming months we will be unveiling a donor advised fund model that will transform how we collectively invest in this work. Because we can achieve this, and when we do, we will transform our community. We will transform lives.
To better appreciate the life-altering nature of our work, I want you to consider the story of Okema.
Three years ago, Okema stood on this stage and shared her personal journey. In her mid-20s she found herself unemployed, trying to raise her daughter single-handedly. She enrolled SOME's Center for Employment Training where she graduated and ultimately earned a job working for SOME. Today, 8 years later, Okema is now the Lead Employment Retention Specialist at SOME. That means she is the person responsible for ensuring that recent graduates have the support they need to stay in their jobs for the long-term. And she has the real life experience to share. I recently ran into Okema, and she shared with me that she now wants to become a life coach. Imagine that – talk about paying it forward?
It's success stories like Okema's that make this work both critical and rewarding. We can't be intimidated or daunted by the staggering statistics. We have to focus on what's possible and the positive signs of progress that we are seeing every day.
Last year, our grantmaking reached nearly 7,000 women, and as a result:
●    Women collectively saved close to a quarter of a million dollars.
●    More than 400 women increased their collective incomes by $1.5 million through new jobs or advancing to higher paying jobs.
These are impressive results, but we know much more needs to be done. Over the next five years, we are committed to increasing our investments in this community from $1 million to $5 million.
But those investments can only be successful if the women they support aren't hindered by other barriers—like access to child care or transportation.
DC is poised to become one of the most generous places in the country for low-income workers seeking paid family and medical leave. Regardless of where you stand on how we pay for this benefit, there is no ignoring that the time has come to have this important conversation.
This is just one of the many reasons why The Women's Foundation is also committing to coordinating our work with those community partners and policymakers who are positioned to remove barriers and enact tangible policies that improve the lives of women and girls.
You are each here today because you know one very simple truth: when women are strong, our community is strong. And yet, just a stone's throw away—whether it's Langley Park, Bailey's Crossroads, or Anacostia—there are roughly 30,000 single moms who are struggling to make ends meet, and their children know nothing else but what it feels like to scrape by.
So yes, bold visions are needed, but bold actions are overdue. Today, I've laid out for you our commitments, but I want to know what will each of you do to change the uncomfortable reality for so many women and girls?
You are The Women's Foundation. We are The Women's Foundation. Together we will invest in our greatest innovators, entrepreneurs, educators, and changemakers.
Together, we can change the FUTURE.
We don't need to look any further – WE have the power to make this happen.
And NOW is the time.
Thank you.