On October 23, The Women's Foundation President and CEO, Jennifer Lockwood- Shabat, gave the following remarks at the 2014 Leadership Luncheon. Please click here to see a video of her delivering the speech in its entirety.
Here. Now. For Her. – is this year's luncheon theme.  I hope as you thought about coming today, you also took a moment to reflect on what this means to you.
Why are you here, now—in this moment?  Who is the "her" in your life who has touched you profoundly, or whose life you have touched? 
For me, this theme is deeply personal. You see, in many ways, I am HER.  And I am here today because of my mother, Dianna Lockwood.
My mom grew up poor in a small town in NH, on a working farm, the youngest of three sisters. She never had the opportunity to go to college.  She met my dad while working as a medical transcriptionist at a VA hospital in Vermont.  He was a physician's assistant.  They created a wonderful life—two kids and a house they built on 10 acres of land.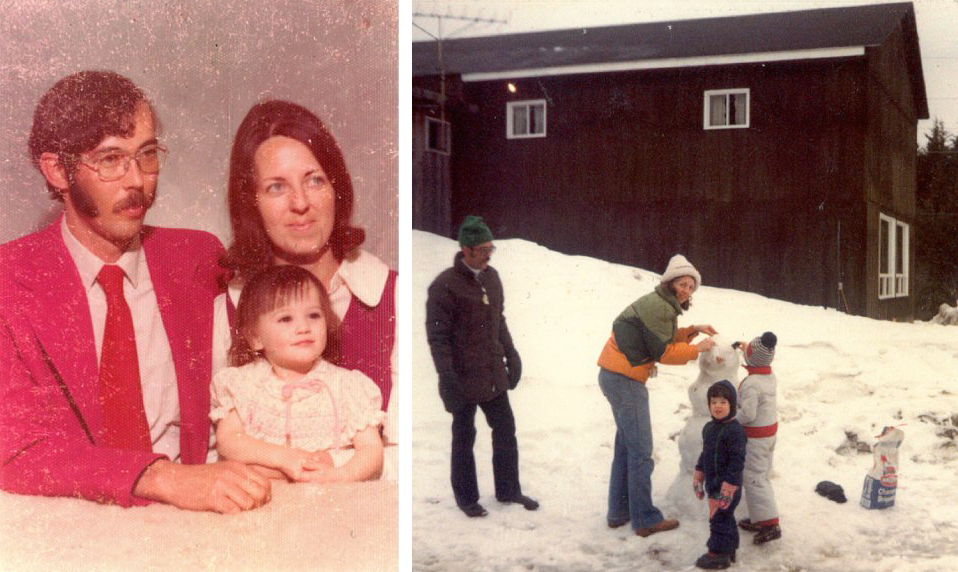 And then the summer I was 10, it all changed. I remember the day well – my mom and dad came home in the middle of the day looking very sad and confused.  It was the early 80s, and many of you will remember, a recession was hitting the country.  The small private doctor's office in our hometown was struggling financially, so they made a business decision – lay off the person who made the most (my dad) and the person who made the least (my mom). That decision changed our lives forever.
Up until that point, my dad was a high-functioning alcoholic. But being laid off crushed him, and he turned to alcohol frequently and worked only sporadically. We repaired our relationship later in my life, and he was an amazing grandfather to my girls before he passed away 5 years ago. But for the rest of my childhood, it was my mom who got up every day and put one foot in front of the other, consistently working two and three jobs to make ends meet.
I knew that my mom was making great sacrifices so that my brother and I would have the opportunities that she did not.  I could see how tired and stressed she was, and I'm certain there were many days when she'd simply had enough. I learned early on that if I wanted something, I needed to work hard to earn it.  I got my first job at 15.  That summer, and every summer for the rest of high school, I too worked two jobs, selling tickets at the local race track by day and waitressing at the local Pizza Hut by night.
I worked not because I wanted extra spending money, but to pay for basic necessities and do what I could to save for college. My mom always regretted not having that opportunity, but was determined that her children would.  It wasn't easy financially, and I worked full-time pretty much the entire way, but I am proud to say that I am the first person on my mom's side of the family to not only get a 4-year degree, but also a master's degree.
Today is a big deal for my mom.  She's here, with my husband, my daughters, and my brother.  She's watching her little girl on stage, running a nonprofit in the nation's capital, remembering some very dark days, and I know she's thinking, "Damn, it was all worth it."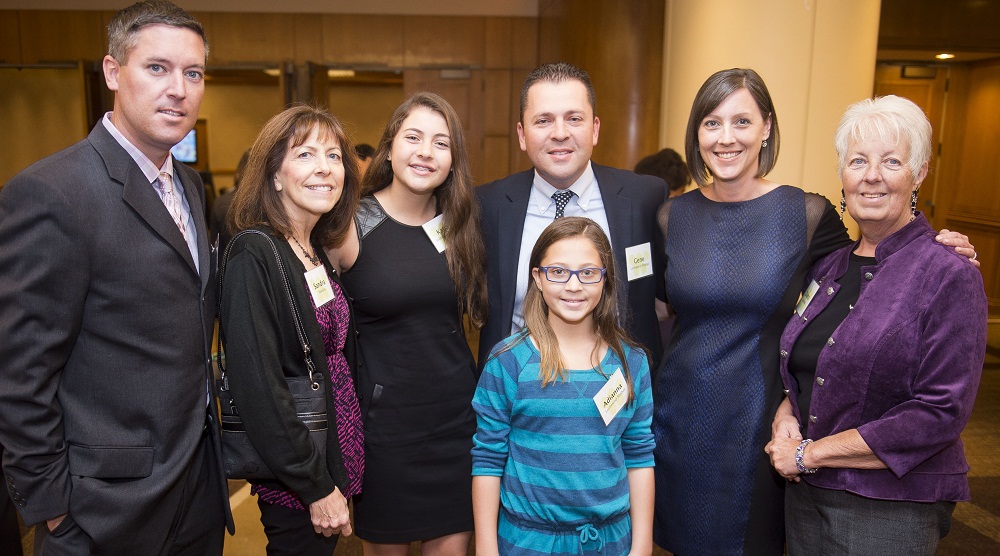 So, I do what I do because of her. I've devoted my career to working on behalf of low-income women and their families because I want her to know that the investment she made in me, all of her sacrifices, were not in vain.  And now that I'm a mother, I have a new, more profound understanding of what she did, and I know that as I strive to make a better life for my own daughters, I am paying forward what my mother has given me.
But, my story is just one story.  There are many, many others.  Thousands of women who do all they can to ensure their children and families can step beyond their own experiences and limitations to live their dreams and achieve their potential.  But sometimes having a dream and working hard is not enough. Sometimes the deck is stacked against you.
There are more than 200,000 women and girls living in poverty across the Washington metropolitan region. Sadly, that statistic hasn't changed significantly in recent years, particularly in light of the recession and what has now become a slow and prolonged recovery for those most in need. That stat also doesn't capture the additional 250,000 women and girls who are living just above the poverty line, but certainly aren't earning enough to make ends meet.
As frustrating as these numbers are, and as impatient as we all are for change, we have to remember that most women in our community didn't suddenly fall into poverty.  It's multigenerational.  And just as it didn't happen overnight, it won't be resolved overnight.
What does it take to move women and girls from a place of economic vulnerability to security?
The answers to that question and the issues our region faces are complex, but now is the time to stand firm in our commitment, craft a bold vision, and re-double our efforts so that future generations of girls can achieve their dreams. That's why we launched an innovative two-generation initiative to work with middle school aged girls and their female caregivers—whether that's a mother, grandmother, or another women responsible for guiding and shaping that girl.
You all remember what it was like to be in middle school. It's a difficult transition under the best of circumstances. As girls develop into young women, there are clear and critical markers that can support or challenge their future economic security.
Our goals for investing in girls are to support high school completion, develop self-esteem, encourage positive choices, and empower them as social change agents.
Our goals for investing in women are to obtain jobs with family sustaining wages and benefits, support increased financial capability, and provide the foundational skills that allow them to break the cycle of poverty for their children.
In the past year, we've been proud to partner with College Success Foundation, DC Promise Neighborhood Initiative and YWCA National Capital Area to help forge collaborations and creative thinking on ways to serve both middle school aged girls and their female caregivers with programming that meets their individual needs, while also bringing them together so that they can support one another on this journey. This work will first launch in Ward 7, but our goal is expand our two-generation work across the region, so that the 53,000 girls currently living in poverty can have a brighter future.
The two-generation strategy actually builds and expands upon a decade of investments in our community that have focused on low-income women and women-headed families specifically. Through our grantmaking program, Stepping Stones, we have invested more than $7 million. And that investment has helped over 10,000 women increase their incomes and assets by $45 million through higher wages, decreased debt, and increased savings.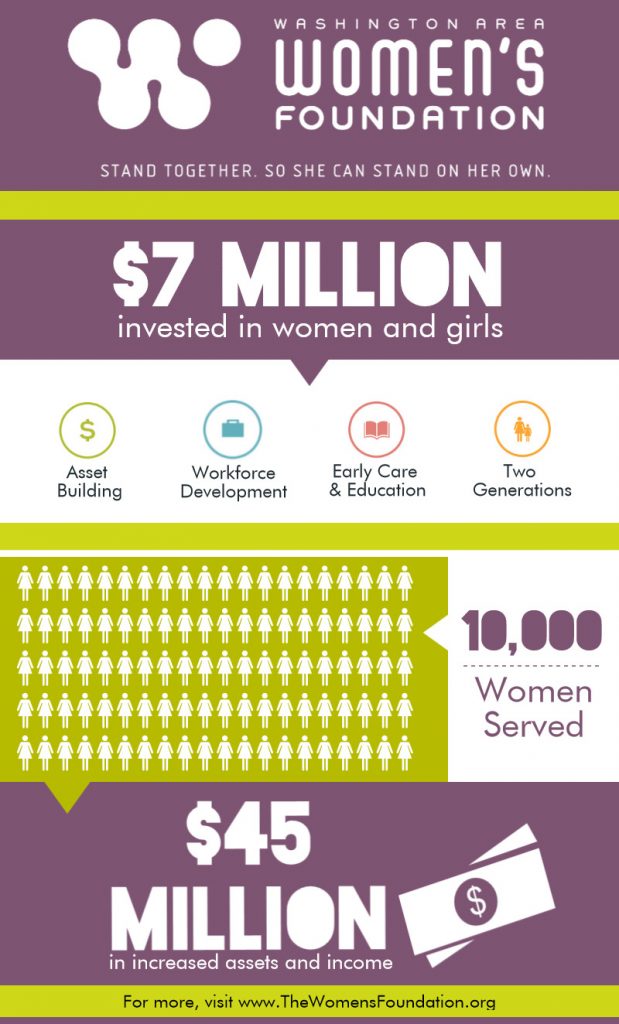 Yes, these are impactful outcomes, but I believe we need to think bigger.  We are capable of doing more.  How do we move from 10,000 women to 100,000 or 200,000?  My goal is to, one day, stand before you and say we've accomplished this.  And I believe we can do it.
The Women's Foundation has a powerful voice, and we have a responsibility to use that voice and our power as a convener to affect greater change. Yes, our investments in the community are critically important, but so too is our voice and our deep expertise and knowledge.  These are tools we can leverage, and it's the combination of our investments and our influence that will ultimately have the greatest impact.
But it's not just about us.  I know that no one organization can single-handedly end poverty.  This will require unprecedented collaboration and partnership among philanthropy, business, government, nonprofits, and individuals. And we need all of you, here in this room, to help spark a movement. We are poised and ready to lead that movement, and I want each of you to join me. Let's harness our collective strength to, in turn, strengthen others.
This is the time—NOW.
Because what we do in this moment will shape the future of our communities. There are thousands of women and girls who need us now, more than ever.  Each one of them has hopes and dreams, and they deserve the opportunity to reach their full potential.
Stand with us. 
HERE…NOW…FOR HER.
Thank you.