The Women's Foundation's recently announced investments of $630,000 in economic security efforts across the region included seven grants (totaling $325,000) for organizations working to increase the quality and capacity of, and access to, early care and education. These grants are made through the Early Care and Education Funders Collaborative, a collective funding effort led by The Women's Foundation that brings corporate funders and foundations together to invest in systems-level change in the region's early care and education. You can learn more about the Collaborative and its partners here.
These investments seek to:
Improve the quality of early care and education for low-income children ages zero to five;
Expand access to affordable early care and education options;
Support professional development for early care and education professionals;
Encourage and strengthen partnerships among stakeholders that support positive changes in the early care and education system.
This year, our early care and education grants continue to support increased advocacy work, an effort that began last year. These investments include Voices for Virginia's Children, working across Northern Virginia; Prince George's Child Resource Center, mobilizing in Prince George's County, Maryland; AppleTree Institute, and a partnership of DC Appleseed and the DC Fiscal Policy Institute, focused on the District of Columbia.
The partnership between DC Appleseed and the DC Fiscal Policy Institute is particularly exciting. Together, they are responding to an identified need within DC's early childhood community: lack of consistent and complete data that captures the cost of quality programs. They will also examine the impending costs facing providers as they adapt to a changing Quality Rating and Improvement System (QRIS), proposed changes in licensing and regulations, the costs of professional development and increased compensation for teachers and the costs of serving children with developmental delays and/or special health care needs. The findings of the study will form the platform for an advocacy agenda, steeped in research data to help advocates rally around a common agenda.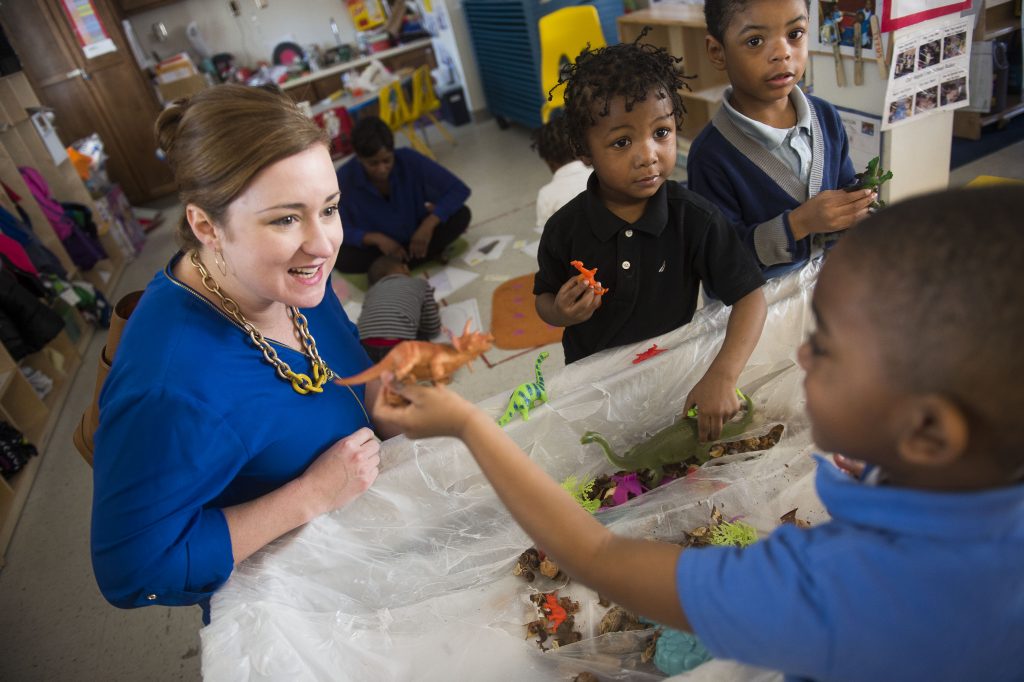 The Women's Foundation is proud to be one of many investing in early care and education (with more investors recently, as evidence by the White House Summit on Early Learning). Research shows that young children (ages 0 to 5) need a strong social, emotional and intellectual foundation to succeed in school. Children who enter kindergarten without this foundation for learning are more likely to face significant academic challenges than peers who come prepared. Quality early care and education can successfully close this "preparation gap," while facilitating the economic security and long-term financial success of low-income families; supporting parents in the workforce; and preparing future workers to meet the needs of the regional business community and become active, contributing members of society.
We look forward to supporting our Grantee Partners as we push these goals forward in our region!
Here's a full list of this year's early care and education grants.
2015 Grant Investments in Early Care and Education
AppleTree Institute for Education Innovation
To support AppleTree Institute's increased communications and advocacy efforts in Washington, DC, aimed at defining quality early education in terms of child outcomes that result in school readiness.
 CentroNia
To support the CentroNía Institute in piloting and testing the Unpacking CLASS Tool Kit, an instructional guide that helps early childhood teachers and center directors improve teacher-child quality interaction in the classroom.
DC Appleseed
To partner with the DC Fiscal Policy Institute to design and produce a study of the District's child care costs.
The Literacy Lab
To support the Metro DC Reading Corps Pre-K Program, which embeds literacy tutors in DC and Alexandria's highest-need early childhood classrooms to provide children with daily literacy interventions that prepare them for kindergarten and future educational success.
National Black Child Development Institute
To support the T.E.A.C.H. Early Childhood DC program, which will invest in the professional development and improved quality of teachers serving children from birth through age five in the District of Columbia.
Prince George's Child Resource Center
To support Joining Voices, an advocacy project in Prince George's County that empowers parents and child care providers to articulate the importance of quality child care for family stability, school readiness and economic growth.

Voices for Virginia's Children
To promote public policies and investments that ensure all children in Northern Virginia, particularly those who are disadvantaged, enter kindergarten ready to succeed.