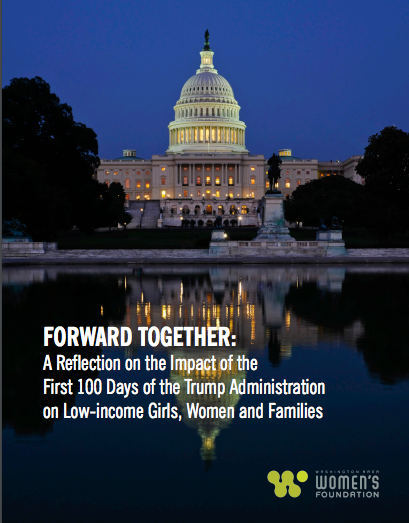 April 29th marks President Trump's 100th day in office. Washington Area Women's Foundation releases a report that summarizes action impacting women and families.
"According to the White House press office, the President has signed 30 executive orders, used the Congressional Review Act 13 times to review and overturn federal regulations that went into effect under the Obama Administration and enacted 28 laws during the first 100 days of his Administration. These actions include the revocation of the Fair Pay and Safe Workplaces Executive Order, a measure that strengthens protections against workplace discrimination and another order that, if it had gone into effect, would have limited immigration and travel to the United States for targeted groups.
In addition to the legislative and executive branch actions that could create barriers for women and girls, the Administration's appointees do not have a history of promoting women and girls. On January 31, 2017, the President nominated 10th Circuit Federal Judge Neil Gorsuch to the U.S. Supreme Court. In his rulings, Judge Gorsuch denied protections for pregnant women and sided with corporations in their efforts to deny women access to the full range of reproductive health care services. Judge Gorsuch was confirmed to the highest court in the land on April 7, 2017.
From high rates of poverty to food insecurity to disproportionately high rates of unemployment compared to other groups of women, low-income girls, women and families face multiple barriers to building their longterm economic security and accessing opportunity. As such, in this current political moment, it will be critical to work across communities to ensure that policies enacted at the federal level do not have a disproportionate impact on these populations."
Read and download the report here.