Women have a long history of volunteering their time, talent, and treasure to support worthy causes and solve some of the great challenges our communities face.
Like never before, women of different backgrounds have rising economic, financial, social, and political power thanks to their increased participation in the workforce, educational attainment, and leadership roles. With direct influence over how wealth is spent, the face of philanthropy is changing with women from many cultures and communities of color—Black, Asian, Latina, American Indian, Pacific Islanders, and more—actively participating in giving and volunteering.
As a women's foundation, centering women as the donors and recipients of funds, we recognize the critical importance of engaging and leveraging the philanthropic potential of all women in our region, and understanding how giving connects them to each other and to the causes they support.
A new study from the Women's Philanthropy Institute, Women Give 2019: Gender and Giving across Communities of Color, is the first to explore philanthropy at the intersection of race and gender. The report finds that gender differences are consistent across racial groups—women are more likely to give than men are—but, unlike gender, a donor's race does not have a significant effect on the amount given to charity. When we take into consideration factors like gender, wealth, income, and education, race does not significantly influence giving.
The report challenges common perceptions about who our society sees as philanthropists, and explores the ways in which race influences how organizations engage donors from diverse backgrounds. For example, the report reveals that fundraisers are less likely to approach philanthropists of color. Women Give 2019 highlight studies that show African Americans would donate more if organizations asked them more often, and that Latinos are highly interested in charitable giving, but organizations are less likely to engage with them as often or with the same relationship depth as White donors.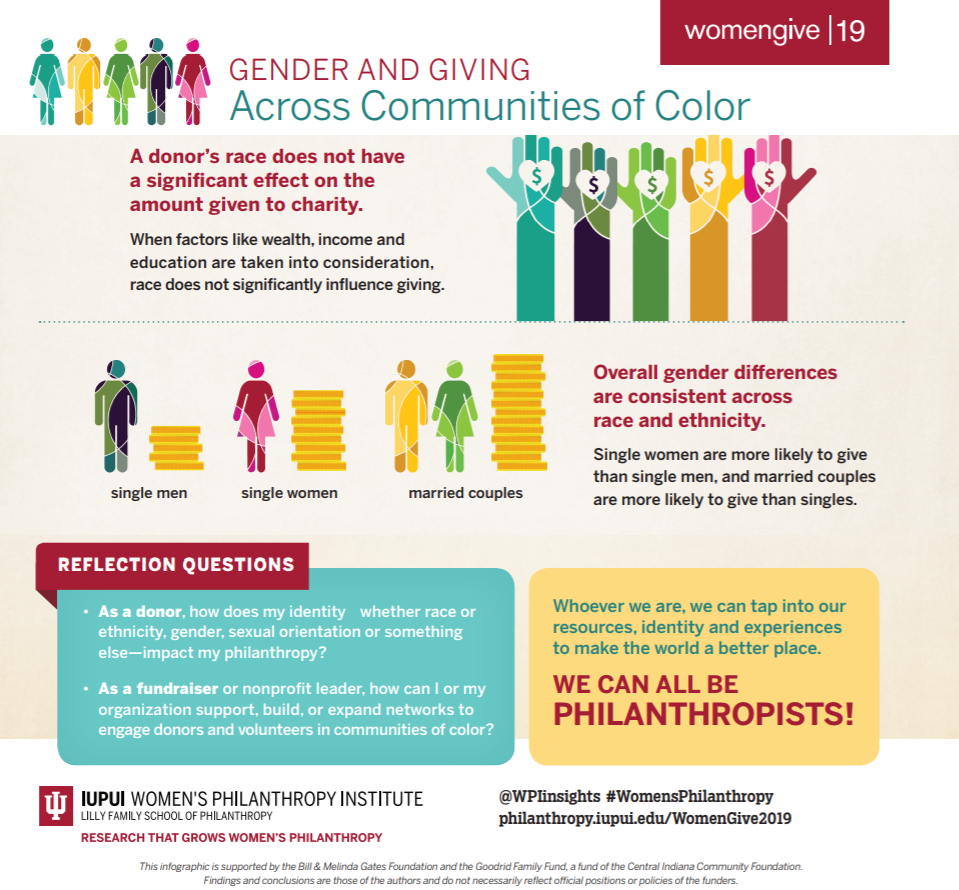 In addition to highlighting findings from quantitative data, the authors of the report conducted six in-depth interviews with women of color philanthropists. In sharing their stories, it is clear that for these women, gender and racial identities shape and guide their philanthropic work. These stories also surface some of the different pathways women take to establish their philanthropy, the unique perspectives and experiences they bring to giving, and highlights the importance of doing more to mentor and engage women of color in philanthropic endeavors.
The biggest challenge facing our community is not a lack of strategies to address the needs of women and girls who are vulnerable to experiencing economic insecurity, but a lack of resources. Women Give 2019 suggests untapped opportunities to increase and catalyze these resources.
Creating a welcoming, diverse, and inclusive culture in philanthropy is also about creating space and opportunities for communities of color, and in particular, women of color, to participate as donors.
Claudia Williams is Program Officer at Washington Area Women's Foundation where she contributes to crafting and executing program strategy and manages the Young Women's Initiative of Washington, DC.