Emily Griffey is a Senior Policy Analyst for Voices for Virginia's Children, a Women's Foundation Grantee Partner.
Much like your typical preschool classroom, activity, opportunity and challenge were in the air in Fairfax the week of April 7-11th.  That week happened to be the Week of the Young Child and public hearings on the Fairfax County budget, creating a perfect opportunity to rally early education supporters to demonstrate their impact on school readiness and ask for increased local support. Adding to the opportunities and challenges this year, Fairfax is faced with numerous requests for funding from different stakeholders groups and budget uncertainty. With proposed local budget increases for early learning opportunities on the table – a $714,000 package for additional mentors and professional development for child care providers and an expansion of the Virginia Preschool Initiative (VPI) – advocates were needed to go on the record, along with these many other groups asking for increases, so that early learning would be included in the final budget.
Voices for Virginia's Children is fortunate to have the opportunity to weigh in on early learning opportunities for Northern VA children through a grant from the Early Care and Education Funders Collaborative. While it may seem that Northern VA is one of the more affluent parts of Virginia, Alexandria, Arlington and Fairfax are home to 6,000 children under age 5 living in poverty (2012 ACS 1 year estimate). And Virginia's early learning resources lag behind those provided across the metro area.
Calling the campaign #SchoolReadiness4Nova, Voices activated a network of local community leaders, early childhood program providers, and advocates to participate in a letter writing campaign, rally and public testimony to support the funding increase for early learning. (A report by Mission: Readiness, another  Grantee Partner of the Collaborative, notes that Fairfax falls short of the potential of VPI.)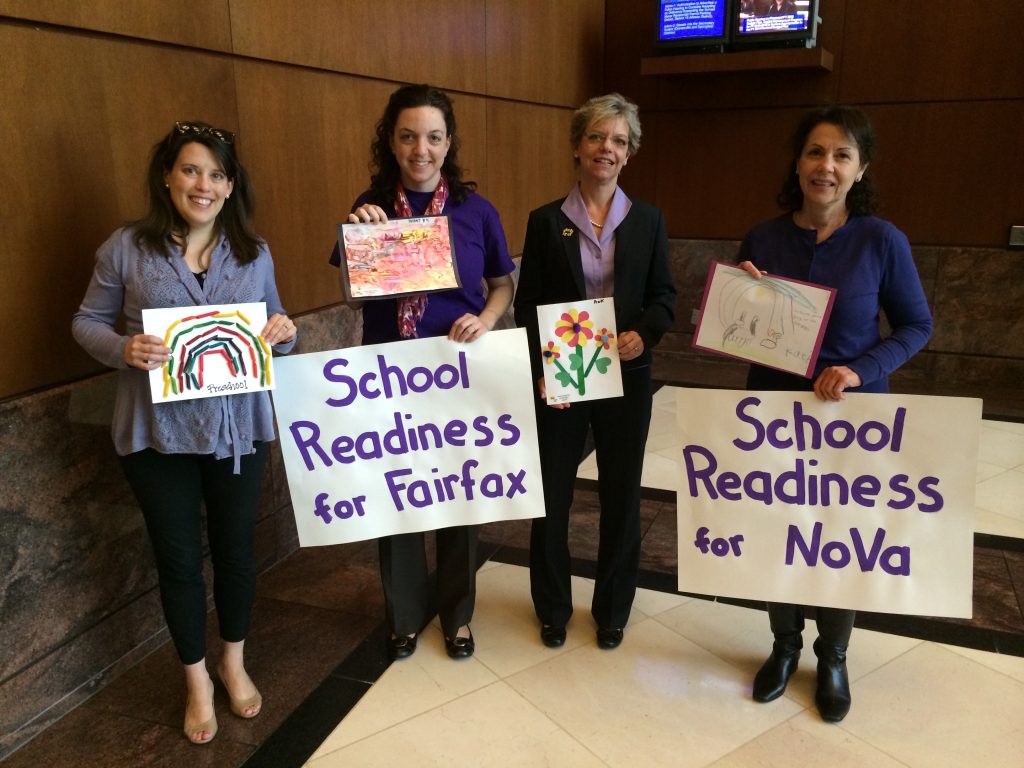 Wednesday, April 9th became a Day of Action for Early Learning in Fairfax and kicked off with a rally at one of Fairfax's 4-star rated early learning centers and a community-based VPI provider, Main Street Child Development Center. Details and video from the rally are available on Voices' website and Facebook page.
Speakers urged the Board of Supervisors to include the proposed $714,000 investment for school readiness in the final county budget, and to look to the coming years with a plan for significantly expanding VPI participation.
WTOP news radio covered the rally and interviewed Carol Lieske, Director of Main Street Child Development Center and Mary Beth Testa, Voices' local policy consultant. A clip of the interview ran throughout the afternoon commute that day, and an article was published on the WTOP website.
Advocates proceeded to the public hearing on the budget that afternoon, delivering art from children from Reston and Falls Church to the members of the Board of Supervisors.
The Fairfax County Board of Supervisors is now in the final days of decision-making on the county budget. We think that the flurry of activity during the Week of the Young Child will help to make the case that strengthening school readiness opportunities are essential services in the Fairfax local budget.
You can take action now to show local leaders in Fairfax that early education matters; for more information on #SchoolReadinessforNoVa and how you can participate, visit Voices for Virginia's Children.