By Stacey Collins, PNC Foundation and Karen FitzGerald, The Meyer Foundation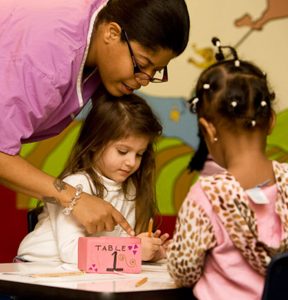 Six years ago, Washington Area Women's Foundation launched the Early Care and Education Funders Collaborative, an effort to bring together local and national funders to increase the quality and capacity of, and access to, early care and education in the Washington region.  We – Stacey Collins of PNC, and Karen FitzGerald of The Meyer Foundation – are pleased to serve as the Collaborative's current co-chairs.
Many of us on the Collaborative have focused on the value of investing in early childhood for many years. However, early childhood issues have recently taken center stage in national conversations.  As a group of funders investing locally, we know that high-quality early care and education can help close the "readiness gap" for low-income children entering kindergarten.
We invest together through the Collaborative to influence systems-level change.  We seek to influence the quality and capacity of early care and education options, and to ensure that low-income families in our region have access to these options.  This year, our grants include local advocacy investments to preserve and increase public support for early care and education, and investments in the professional development of early care and education providers (to increase the quality and capacity of programs in our region, and to support the career advancement and earnings of the predominantly female workforce).
Beyond our grantmaking, how does working as a collaborative influence our individual approaches as funders and investors?
From my perspective, at PNC…
The collective voice is greater than our individual voices, even on the same topic. From feedback and advocacy to funding, the impact is greater when we work together.
As a collaborative effort, by design, we keep early childhood at the center of the conversation. We focus our investments around programs that create the biggest impact. It is not just about making more dollars available for quality childcare in the region, although that is important. It's also about getting to know what influences, how trends and policies shift the way early childhood education (ECE) happens, and which organizations are on the cutting edge of driving those changes. Often, that means defining quality and really understanding what the programs we fund are doing to change the trajectory of ECE in the region.
I personally have learned so much from being a part of the Collaborative. It's a group of smart and passionate advocates. Our discussions about program effectiveness, and how to assess that when no universal quality standard pre-K assessment tool exists, are a great way to learn from others. It's an opportunity to delve into the "why" behind each other's focus areas.
From my perspective, at The Meyer Foundation…
Pooling resources and focusing on the entire ECE system – rather than on individual child development centers – helps Meyer have a bigger impact in ECE than we would have through our individual grantmaking.  We fund some ECE work in our education program area, but we don't focus on it.
The Collaborative gives us the chance to learn more about ECE from funders who know more about the issue than we do. We especially value the opportunity to work alongside corporate and family foundations, who share our commitment to the issue and whose different perspectives make for rich discussions and grant deliberations.
The Collaborative has elevated for us the issue of ECE quality so that it is now an important priority of our grantmaking in this area.
_____________________________________________________________________________________________
Click here to learn more about the Collaborative.
The Early Care and Education Funders Collaborative currently includes: The Boeing Company, Eugene and Agnes E. Meyer Foundation, Fight for Children, Morris and Gwendolyn Cafritz Foundation, PNC Foundation, Washington Area Women's Foundation, and Weissberg Foundation.