Editor's Note: Fight For Children was a part of the Early Care and Education Funders Collaborative for four years before leaving in 2014. Skip McKoy, Fight for Children's Director of Programmatic Initiatives, shares his reflections in this guest blog post.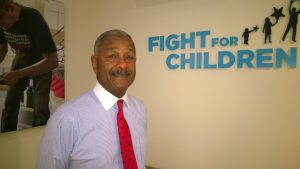 At the end of June, Fight For Children will transition off of the Washington Area Women's Foundation's Early Care and Education Funders Collaborative to focus our attention on Joe's Champs, our early childhood, school-based education program. We developed Joe's Champs to provide principals, assistant principals, and teachers with professional development and mentorship opportunities focused specifically on students ages 3-4, a period sometimes overlooked by educators but vitally important to a child's academic and social development. Without the extensive discussions with funders of the early childhood space—including those we met through the Collaborative—we would not be as confident in the success of Joe's Champs as we are today.
When Fight For Children joined the Collaborative in 2010, we were primarily a grant-making organization.  The Collaborative provided us with an opportunity to engage with and learn from other local organizations interested in supporting early childhood development. As Fight For Children shifts from a grant-maker to an organization that designs and runs its own programs, the Collaborative remains a valuable resource for us, other local funders, and early childhood education leaders.
As I reflect back on our four years as a Collaborative member, I am grateful for the many opportunities and lessons learned. Here are a few that stand out to me:
On the Collaborative, Fight For Children has had the opportunity to join forces with other organizations to leverage our impact on local children. For example, in 2013, as a member of the Collaborative we contributed to the support of ten early childhood education projects, in addition to the projects we support on our own.
Fight For Children has a small staff that goes into the community throughout the year to research potential organizations with which to partner. Being part of the Collaborative exposed us to projects otherwise unfamiliar to us, given our limited resources.
As a non-profit focused on children within DC City limits, Fight For Children staff do not readily have opportunities to learn about innovative approaches occurring elsewhere in the DC, Maryland, and Virginia region. The Collaborative has facilitated our experiences with early childhood education and development projects outside of DC, which we were then able to reference during our development of Joe's Champs.
Any of these reasons alone would be a powerful incentive for an early childhood funder to join the Collaborative. But, there is another value-add to being part of the Collaborative: the group of funders* represented at the table are all well-respected and thoughtful. They represent a cross-section of foundations and corporations dedicated to improving early childhood care and education in this region. Having different organizations bring to light the multiple sections of the proverbial early childhood education elephant provides a better sense of the big picture, allowing each of us to be more thoughtful change agents and resulting in an even greater, systemic impact.
*The Early Care and Education Funders Collaborative currently includes: The Boeing Company, Eugene and Agnes E. Meyer Foundation, The J. Willard and Alice S. Marriott Foundation, Morris and Gwendolyn Cafritz Foundation, PNC Foundation, Richard E. and Nancy P. Marriott Foundation, Washington Area Women's Foundation, and Weissberg Foundation.